Syndax (NASDAQ:SNDX) is a $315 million market cap company focused on developing a pipeline of innovative combination therapies for cancer. The company's lead product is Entinostat, which was granted Breakthrough Therapy Designation by FDA for its Phase 2b clinical trial in advanced hormone receptor positive (Estrogen Receptor positive, ER+) breast cancer. The impact of Breakthrough Therapy Designation on biotechnology stocks has been previously described here by Strong Bio and is worth a read. The company has a host of impressive partnerships for its clinical trials, including Merck (NYSE:MRK) for a combinatory non-small cell lung cancer (NSCLC) and melanoma therapy, Genentech/Roche (OTCQX:RHHBY) for triple-negative breast cancer (TNBC), and Pfizer (NYSE:PFE) and Merck in Germany for ovarian cancer.
Entinostat is a novel oral, small molecule Class 1 histone deacetylase (HDAC) inhibitor that is designed to enhance the body's immune response to tumors as a combination therapy with immune checkpoint inhibitors. Preclinical research has shown that it inhibits immunosuppressive cells, such as myeloid-derived suppressor cells and regulatory T cells (Tregs), which can migrate to the area of tumors and inhibit immune system response. This results in a more effective anti-tumor response of other T cells. The compound is long-lasting, which requires fewer doses and demonstrates positive immune response with reduced severity of cytotoxic effects or adverse events. Its excellent safety profile makes it a good candidate for combination therapy in cancer, with data indicating efficacy in tissue types including melanoma, prostate, renal, non-small cell lung cancer, breast and PD-1/PD-L1 or CTLA-4 checkpoint blockade-resistant cancers. A proposed mechanism schematic is shown below (taken from the company website) and appears to be unique compared to other anti-escape therapies being developed by the industry.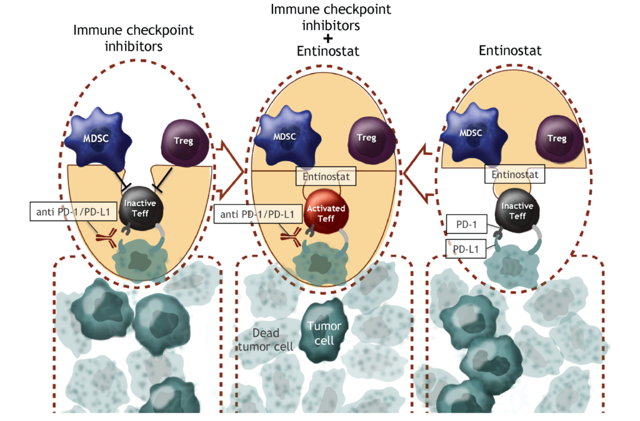 Syndax currently has impressive active clinical trials evaluating Entinostat in combination with a number of approved PD-1 antagonists, including a late phase 3 study in advanced HR+/HER2- breast cancer in combination with Aromasin. Key readouts are expected in 2018, with early readouts at year-end 2017. SNDX announced early results in May (and presented at ASCO 2017) of an open-label phase 1b/2 dose escalation trial with Merck examining Entinostat plus Keytruda in 178 patients with melanoma, or NSCLC phase 2 patient study. The trial recently expanded to include a cohort of colorectal cancer patients as well. Early cohort analysis indicated improved objective response rates in patients receiving Entinostat combination therapy.
Syndax is conducting a phase 2 study in collaboration with Genentech for Entinostat in combination with Atezolizumab (anti-PDL-1) in patients with TNBC. A phase 1/2b study in collaboration with Merck Darmstadt and Pfizer evaluating avelumab (anti-PDL-1) in patients with ovarian cancer is currently being conducted to evaluate a number of efficacy measures including changes in blood biomarkers. The company is also conducting a phase 2 study at Johns Hopkins to evaluate epegenetic priming in metastatic NSCLC response to Entinostat and Vidaza to enhance response to Opdivo. A phase 1/2b study funded by the National Cancer Institute examining Entinostat in combination with Proleukin for renal cancer safety and efficacy is ongoing, with early results presented at ASCO 2016 indicating Entinostat may increase anti-cancer activity. Finally, a phase 1 study, also funded by National Cancer Institute, of Entinostat and Opdivo with or without Yervoy (NYSE:BMY) is being conducted in 39 patients to evaluate patients with metastatic solid tumors or HER2- breast cancer. The company's pipeline figure is shown below.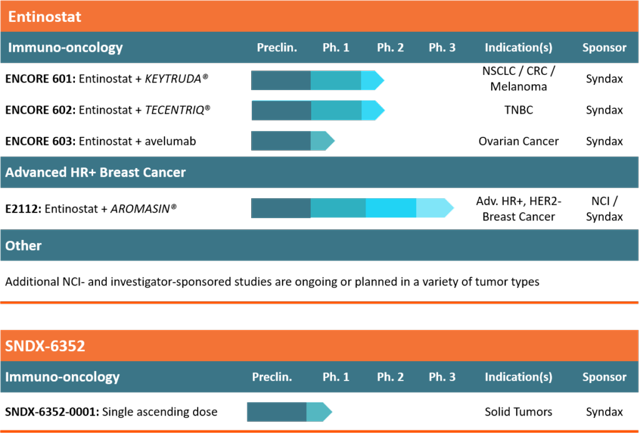 Moreover, Syndax is developing a second immunomodulatory candidate, SNDX-6352 (UCB6352). SNDX-6352 is an anti-CSF-1R antibody being evaluated for immune response to tumors showing sensitivity to immunotherapy, expected to soon enter phase 1 clinical trials. The candidate, like Entinostat, works in the tumor microenvironment to potentially block immunosuppression by Tregs.
In terms of cash runway, as of March 31, 2017, Syndax reported $92 million in cash in its first 2017 quarterly report. Additionally, it has recently raised $49 million in capital in a public offering in May 2017, at $13.25 per share, for a total of ~$140 million. Company expenses for 2017 are expected to be ~$55 million. With key readouts coming late 2017/2018 for Entinostat in breast cancer, and a Type B pre-NDA meeting with FDA being held in late June for melanoma patient input (i.e., as we read), the SNDX reward-to-risk ratio appears likely to benefit investors taking positions in mid-2017.
Strong points include National Cancer Institute funding for several trials, including its phase 3 trials, and top-notch partners with leading drugs in the space. There are key industry leaders advocating this technology to have achieved this funding, and that equates to a very small cash burn compared to many companies that shoulder the load themselves or with small partnerships. The company has less than 20 million shares outstanding, indicating management has done a very good job of making the stock attractive to investors. Market support at $13.25 seems likely. Any drop in stock prices below $12 are very attractive for Strong Bio.
Risks for investors include potential pitfalls with FDA approval and manufacturing hurdles. Some analysts believe Syndax risks are quite high, as in this SA article by Khurram Aziz. Mr. Aziz cites high debt levels and a long time to wait for product approval as reasons to avoid investing, as well as saying that Entinostat has a massive amount of work to do to prove efficacy. Strong Bio acknowledges these risks, but with many irons in the fire, a plethora of established and capable manufacturing partners, and good safety profile and emerging efficacy data, much of these risks are ameliorated. However, until the FDA responds to the company at the pre-NDA type B meeting, one cannot say that SNDX is "derisked".
One specific risk of drug candidates seeking to activate the immune response has been that of unchecked immune system hypersensitivity responses or autoimmune disorders. But given the number of tumor escape mechanisms and looming mortality rates that are being elucidated by investigators for approved anti-PDL-1 and CTLA-4 therapy escaping cancers, combination therapies such as Entinostat appear to be well positioned to enter the market.
Dilution is always a possible risk, but the company has done a nice job diluting at a valuation at or above trading levels for the past five years. It is true that Syndax has not had a drug approved in its 10 years of existence, and Khurram Aziz's SA article states that investors should stay away due to competition. But no specific superior competitor was discussed or mentioned, indicating a potential lack of support for the argument. So whom do you trust, experts at Strong Bio, National Cancer Institute, Merck, Pfizer, Genentech, Roche, Bristol-Myers, and Johns Hopkins Medical Center... or the detractors? The FDA will surely have the last word here.
Disclosure: I/we have no positions in any stocks mentioned, and no plans to initiate any positions within the next 72 hours.
I wrote this article myself, and it expresses my own opinions. I am not receiving compensation for it (other than from Seeking Alpha). I have no business relationship with any company whose stock is mentioned in this article.
Editor's Note: This article discusses one or more securities that do not trade on a major U.S. exchange. Please be aware of the risks associated with these stocks.